How Often Should You Update Your Will?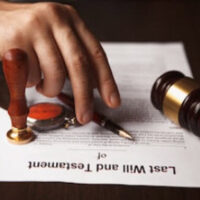 You drafted a will ten years ago when your first became a parent. Since then you have started a small business, had two more children and purchased a rental property. You also write music lyrics for which you own the publishing rights to. So is it really necessary that you revise your will? Is it a time-consuming process, or could you just download a boilerplate form online?
Events that Trigger an Update
Any major life change constitutes a will revision. It is not recommended that you download a blank form online because it is not customized to your needs, and enforcing an online will after the decedent's passing is increasingly difficult. If you recently became a grandparent to a new child, adopted or joined a blended family, you may choose to update your will to add that new beneficiary to it. Even young and middle-aged adults should consider drafting a will that provides guidance regarding the guardianship of small children and division of assets should untimely death occur. In addition, anytime you or your spouse acquire or sell real property, such as a vacation home or rental property, you should amend your will to reflect that addition to your assets. This includes updating a list of liabilities as well. Any time you acquire real property or personal property worth sentimental or financial value, you should strongly consider amending your will to reflect your wishes for distribution of that asset.
In addition, if you recently lost a spouse or heir designated in your will, you will need to revise the will to redistributing assets. If your spouse or loved one was also designated to serve as your personal representative or estate executor, you must amend your will as soon as possible and choose a substitute. This includes updating a healthcare proxy/surrogate or POA for an elderly parent or loved one. Finally, if you invested capital into a new business or started a new venture, you should consider the process for winding up assets or dissolving the business at life's end. Also consider any intellectual or digital property you have acquired.
Making will revisions
To revise an existing will, call Brian S. Karpe for assistance. He can discuss revisions and modifications you need and easily prepare a new version expediently. Remember to destroy or delete any contemporaneous or previous versions of your will and estate planning documents to avoid confusion or dispute in the future. If you require additional estate planning assistance, Mr. Karpe is well-equipped to provide guidance His office remains open to discuss your retirement and estate planning needs.
Call Canton Estate Planning Attorney Brian S. Karpe
If you are considering revisions to your will or estate planning documents, or you need assistance with the probate administration of a dearly departed loved one, call Canton elder law attorney Brian Karpe.  He specializes in estate planning and administration with an advanced law degree and expertise. Call today to schedule a consultation and discuss your options.