3 Reasons Why Long-Term Planning Is Crucial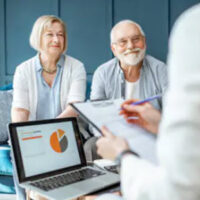 You have a nest egg saved for retirement, a ROTH IRA, a 401K, a pension, and a will. So you are done planning for your long-term health and financial future, right? Wrong. While saving for retirement starting in your twenties and thirties is critical, and drawing social security can help, long term planning is more extensive than just saving money and financially planning for the future. As you age, you must give consideration to your advanced health needs and what you would want to happen in the event of your physical or mental incapacity. Here are three reasons why you should contemplate long-term planning and life event documents.
Assistance managing your financial responsibilities 
As people age, many begin to have difficulty managing their financial affairs and need assistance with banking, etc.  A power of attorney allows you to select who you want to help you with these tasks. A power of attorney can be drafted so even if a person is incapable of managing his or her affairs, that agent can help them.  
Have Control Over Your Own Health Care 
Sometimes you are unable to communicate or make decisions regarding your own health care. You might need help making informed decisions about your treatment and plan of care, including informing doctors and your care team of your wishes. Appointing a health care representative to communicate your treatment desires is a way to make sure the treatment you receive is in line with your wishes.
The same is true if you have a preference regarding life sustaining treatments in the case if you are severely incapacitated and on life support.  Now, while you have the capacity to do so, a living will prevents your loved ones from having to make a decision without your input. It also ensures that your wishes are honored when the time comes.
Drafting a number of advanced directives are one step towards ensuring you have health autonomy. Advanced directives are legal documents you complete, often with the help and guidance of an estate planning and elder law attorney. An advanced directive can contain information for who you choose to be your health care representative if you cannot communicate with your medical care providers. The documents contain provisions stating your preference for life-sustaining treatment and medical care should you become incapacitated. Often an advanced directive will contain both health care instructions and instructions for notifying your representative of your health and treatment plan so they can make a decision on your behalf. 
Improve Collaborative Decision-Making with Loved Ones  
Thinking about long-term planning strategies now also gives you the opportunity to communicate and collaborate with your spouse, children and extended family. For example, maybe you have valuable or sentimental personal property or intellectual property you need to draft specific instructions for, or you wish to set up a trust or charitable fund. Maybe you and your spouse want to leave your small business to your children but you haven't brought it up to them yet. Despite your best intentions, it is possible your children do not envision taking over the family business or have plans of their own. These decisions should not be made in haste and require advanced planning to effectuate.
Medicaid Planning
If you or your loved one were to need assisted living or home health care today, how would it be paid?  Are you or they eligible for Medicaid?  What if you have too many assets to qualify for Medicaid?
Contact the Law Office of Brian S. Karpe Today
It is always a good time to discuss life's events documents. Even young adults should give some consideration to their health wishes should they become incapacitated, but elderly couples need to develop a concrete strategy for the long term. This includes drafting advanced directives, powers of attorney, a will, possibly a trust, and complete review of finances to ensure assets are protected and eligibility for a Medicaid Waiver is preserved.
If you have questions about long-term planning strategies, contact Canton elder law attorney Brian S. Karpe. With more than 30 years of experience, he serves clients throughout Connecticut with all estate and long-term planning needs. Call today to schedule a consultation.
Resource:
portal.ct.gov/DSS/Health-And-Home-Care/Connecticut-Home-Care-Program-for-Elders/Connecticut-Home-Care-Program-for-Elders-CHCPE