How To Choose An Elderly Caregiver In Central Connecticut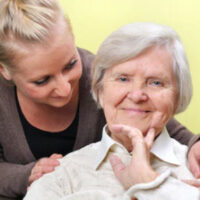 As our loved ones and parents advance in age, sometimes they require more care than we are able to provide. This is a difficult decision for all parties to make, but necessary. When you have decided to obtain additional care, how do you choose between in-home health nursing, a nursing home facility or assisted living facility? If you choose in-home health nursing, how can you find the right candidate to provide quality care for your loved ones?
 Nursing Home, Assisted Living Facility or In-Home Care? 
Making the choice between a nursing home, assisted living facility or home-health nursing in Canton and the surrounding towns is dependent on multiple factors. First, you and your family must decide if round-the-clock care and an on-staff physician are high priority for your loved one. If they are battling multiple illnesses, limited mobility, advanced stage dementia or need a significant amount of help with activities of daily living, then selecting a reputable assisted living residence or a nursing home may be the best choice.
If your loved one is physically mobile but needs a level of assistance with household tasks like preparing meals or cleaning the home, then in-home care might be advantageous. In-home care is often more affordable and gives you and your loved one more flexibility and autonomy. Medicaid may provide assistance with short-term medical needs in a home health setting. There are also Medicaid Waiver Programs that might be able to provide some financial assistance. Also, Medicaid enrollees may qualify if they are home-bound and need intermittent medical assistance from a nurse or occupational therapist, but do not require 24/7 care.
Screen Potential Candidates 
When you have narrowed down several potential candidates for assisted living residence, nursing homes or in-home health care, it is crucial you interview and screen each candidate or facility thoroughly. For some families, a trial run is often the best way to get a feel for the right person. This might look like a few hours of shadowing you as you care for your loved one to see if the potential candidate catches on quickly or has any poignant questions.
When you think you have selected the right candidate, conduct a background check. Make sure you have the applicant sign a release so you can obtain a complete criminal and credit background check. Ask for references and call each reference, identifying yourself and determining what the reference's relationship is with the job applicant. Once you have selected an elder caregiver, have the caregiver sign an employment contract delineating their expected duties, emergency contact information and whether employment is at-will or for a specific time period.
Often the best option is to retain a reputable in-home care provider.  The company will handle most of the background work and screen its employees.  The home care company will also provide workers' compensation insurance for the aide as well as send a substitute in the event the regular aide cannot come such as in the event of weather or illness. 
Contact Canton Elder Law Attorney Brian S. Karpe
As our parents and loved ones continue to advance in age, more intensive care might be required than what we can provide. Choosing between in-home health care and assisted living care is a personal decision, one laden with legal, financial and social considerations. If you need assistance obtaining a Medicaid waiver, screening potential in-home health care candidates or investigating elder abuse claims, Canton estate planning lawyer Brian S. Karpe is the right choice. He focuses his practice on all aspects of elder law and obtained advanced education in estate planning and administration. He serves clients throughout Canton, Hartford County and the rest of Connecticut. Call today to schedule a consultation and review your options.