Estate Planning For Digital Assets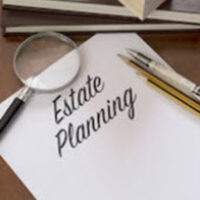 So, you're getting your affairs in order. You have assets such as your car, home, bank accounts, furniture, jewelry, heirlooms, and collections. But have you thought about your digital assets?
As the name implies, digital assets are those possessions that exist in a digital format. Digital assets can be found online or perhaps on a computer, tablet, phone, the Cloud, or storage drive. They may include email accounts, social media accounts, documents, audio files, music, videos, or photos. They could also be cryptocurrency, websites, trademarks, copyrights, blogs, digital financial accounts, online video channels, and other items of value.
Taking stock of your digital assets is crucial, as many of us live our lives online. While you can pass these assets on to heirs, do you want to? If so, you need to detail this in your estate plan, as many of these assets are protected and require passwords to access them.  Should some of these assets, such as social media presences, be terminated? Read on to learn more about digital assets.
Obstacles Involving Digital Assets
If you died tomorrow, would family members be able to access your digital assets? There are several main barriers involved, including the following:
Accessing information on your computer, smartphone, online accounts, or the Cloud can prove tricky without the right credentials. Usernames and passwords need to be included in estate plans for loved ones to have access.
Data encryption. Passwords may have another layer of protection on them if they are encrypted. Encryption can scramble data so thoroughly that it is practically impossible for anyone without the proper passcode to unscramble it. Cell phones have new technology that makes them difficult to decrypt, which means you need the right password.
When it comes to digital assets, the laws may be against you. Federal data privacy laws require the owner's consent before online account service providers can turn over the contents of your online accounts to others. Plus, state and federal laws prohibit unauthorized access to computer systems due to fraud and identity theft concerns. 
What to Do Now 
If you have digital assets, make sure loved ones can access them with these tips: 
Make a list of sites, user IDs, and passwords. Make a list of all your digital assets so loved ones can find and access them. Include usernames and passwords of your email accounts, social media accounts, and other online accounts.  Make sure your loved ones have the answers to the security questions in case the passwords have changed since you last reviewed your estate plan.
Back up data stored in the Cloud. For items in the Cloud, use an extra layer of protection. There are free options that can save digital backups of electronically scanned documents. You should also back them up to a computer or storage device for easy access.
Provide consent. Provide your loved ones with legal consent through estate planning documents. Update your estate plan to allow for certain loved ones to have the login credentials they need to access your accounts. 
Contact Us Today
When you're creating an estate plan, you may not be thinking about your digital assets, but you should. The laws regarding these assets are always changing, so speak to your lawyer today.
Canton estate planning attorney Brian S. Karpe can help you update your estate plan accordingly. Learn more about digital assets by scheduling a consultation. Call our office today at 860-217-1458.
Resource:
fidelity.com/viewpoints/wealth-management/estate-planning-for-digital-assets