Why You Need To Update Your Estate Plan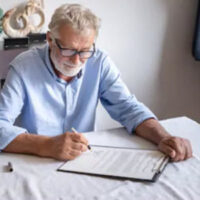 Statistics show that more than half of adults in the United States do not have a will or any other estate plan in place. Having an estate plan is important if you want your assets distributed per your wishes, so why don't more people have them?
While the COVID pandemic has brought about a renewed interest in estate planning, a lot of people are still in denial about the inevitable. They don't want to talk about death because "it's too uncomfortable."  It is hard to face one's mortality.  Or maybe they just don't want to deal with the expense and hassle involved. It can cost more than $1,000 to set up a trust.  Maybe they'll get to it "someday soon." On top of that, estate plans need to be updated regularly.
That's right—creating an estate plan is not a one-and-done event. You'll need to keep updating it based on life events and statutory changes, which can seem to be a hassle if you are still fairly young. If you fail to update your estate plan, your will or trust may become outdated, and can no longer achieve your goals. That's a lot of time and money wasted. See why and when you need to update your estate plan.
How Often Should I Update My Estate Plan? 
You should probably review your will or trust every 2-3 years or so to make sure it is up to date. If it is difficult to keep on such a schedule, it is important to at least review your plan whenever there has been a major and memorable life event.  Have there been changes to your marital status? If so, your new spouse should be added to your estate plan and your former spouse should be removed.  It is also critical to review your estate plan after a divorce as many times married or committed couples choose each other for important documents like powers of attorney, health care representatives, or conservatorships (most people do not want their former spouse having access to their finances, property, or directing their health care).  Think about births and deaths in your family. New family members should be included, while deceased ones should be removed.
Did you come into a lot of money (through an inheritance or lottery win, for example)? Did you gain or lose assets? You'll want to ensure that any new assets are included in your trust or will. No longer have that vacation home or sports car? Then you'll want to remove it from your legal documents.
If you have minor children, do you have a guardian identified to take care of them after you are gone? Is this still the person you want to care for them?  Do your children still need a designated guardian? The same goes for the executor of your will or trust.  Is that person still able to act in that role?  Make sure you still want this person in this capacity. After all, life brings about changes, and sometimes there are family arguments in the mix.
Also, don't forget your account beneficiaries. Do you still want the same beneficiaries on your bank or retirement accounts?  Life insurance policies? If not, be sure to make any changes as soon as possible. 
Contact Us Today
Major life events necessitate updates to your will or trust. Don't forget to make these changes or there can be family drama upon your death.
Contact Canton estate planning attorney Brian S. Karpe for help keeping your estate plan updated. We'll help your will or trust meet your final wishes. Get started with a consultation. Call 860-217-1458 today.
Resource:
cnbc.com/2022/01/27/be-sure-to-keep-your-will-or-estate-plan-updated-3-key-reasons-why.html