Should Your Hartford County Estate Plan Include Guidance For Student Loans?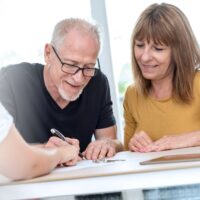 More and more people are attending college.  Colleges are charging astronomical tuition and room and board fees. Many attendees and former alumni use Federal and private student loans to supplement the cost of their education. While student loans have flexible repayment periods, the interest can sometimes exceed the principal. Student loan interest also has nothing to do with a person's creditworthiness and it cannot be refinanced unless the loan was obtained through a private lender. In some cases, a borrower may pay student loans for decades only to have paid off more interest than principal. It is not uncommon for a borrower to be paying student loans back well into retirement age. With that said, it is wise to figure student loans into your estate planning.
Consider Life Insurance
A life insurance policy is not a substitute for building a savings and retirement fund. Of course, your beneficiaries can only draw on a life insurance policy in the event of your death. That being said, a life insurance policy should cover every major expense, including living expenses, income replacement for your survivors and the cost of your debt. This might mean your credit card debt, student loan debt, mortgage, and any other liabilities that are outstanding.
What is a Life Insurance Trust?
Attorney Brian S. Karpe is a licensed attorney focusing on estate law with a master's degree in estate planning and elder law. He can help you draft an irrevocable life insurance trust account tied with a life insurance policy. It operates so that the trust is the beneficiary of the life insurance policy.  It can be an important tool in minimizing estate tax liability. An irrevocable life insurance trust is designed to administer the term or permanent life insurance policy while the insured is still living. The trust can also be utilized to distribute insurance proceeds to named beneficiaries that are paid to the primary beneficiary (or contingent beneficiary).  An irrevocable life insurance trust is managed by an appointed trustee and can help the insured avoid taxes while exerting control over assets. Finding the right amount of coverage is based on the debt you carry, the income loss your family will experience and anticipated living expenses for your family after you are gone.
Can You Refinance?
If you have Federal student loans, you may consolidate multiple student loans into one lump sum payment once. The choice to consolidate is not easy. It may depend on how much debt you carry and at what interest rate. If you have private student loans, you likely have less flexibility in delaying a payment, but more flexibility in choosing to refinance at a cheaper rate. Student loan payments have been deferred again for six months. During this time no interest can accumulate and it is beneficial for borrowers to make payments towards the principal if they are able.
Contact Canton Estate Planning Attorney Brian S. Karpe
If you are concerned about how student loan debt can influence your estate planning, it is best to speak to an experienced Canton estate planning attorney sooner rather than later. Attorney Brian S. Karpe can help you identify a strategy that works for your specific needs at this time, while also providing for your family.  Student loan debt should not keep you from thinking about your future retirement, and what you may leave for loved ones. Attorney Karpe can help you identify a comprehensive estate plan moving forward. Call today to schedule a consultation.
Resource:
studentaid.gov/announcements-events/covid-19