Social Security & IRS Senior Scams On The Rise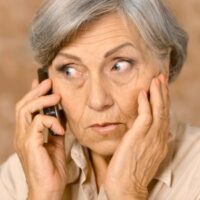 Government officials warn that 2022 will be the year of increased internet and telephone scams. While this does not come as a surprise to most, scams were extremely prevalent last year regarding Google, cryptocurrency, Medicaid, Social Security and the IRS. Authorities estimate that robocallers and other scammers are trying to take advantage of the most vulnerable and will continue to find ways to lie, cheat and steal. How can you protect yourself and elderly loved ones from potential scams in 2022?
What is a Social Security Scam?
A Social Security scam takes place when a scammer impersonates a Social Security Administration (SSA) official on the phone to a Social Security recipient. They may attempt to obtain personally identifiable information from a Social Security recipient who is often a senior citizen. They may threaten the senior citizen that their benefits will be canceled if they do not provide updated credit card information or their social security number over the phone.
A scammer might also ask for bank account information such as a routing number or ask if anyone else in the home is receiving benefits. Because many seniors are not active on the internet, they may assume that it is in fact the SSA calling to check in or verify information. However, this is not true. The SSA will communicate in writing if information needs to be updated. Even if the caller ID says "IRS" or "SSA", do not assume it is a legitimate call. Scammers are able to manipulate caller ID to make a call appear legitimate. Inform loved ones never to give personal information such as social security numbers, birth date or other identifying information out on the phone from an unsolicited caller.
What about IRS Scams?
Tax season is upon us. Unfortunately for many of us, that means increased susceptibility to potential IRS tax scams. If a scammer obtains your social security number fraudulently, they may attempt to file a tax return in your name, routing a potential refund to them. Similarly, scammers pretending to be IRS officials may be calling seniors or adults with children to inform them of a possible tax credit. In doing so, a scammer might ask the victim for updated bank and routing information for a refund or to verify their entire social security number over the phone. Again, similar to the Social Security Administration, the IRS will not call unsolicited. They communicate in writing first and send a letter to the person.  The SSA or IRS would never threaten or demand personal sensitive information in exchange for help.
Calls to say "Yes".
Another type of telephone scam is that the scammers will do their best to get the call recipient to simply say "Yes".   The scammer may confirm the spelling of a name hoping the call recipient will say "yes, that is how you pronounce or spell the name."
The scammer will then record the response and use the person's comment to purchase items.  Sometimes, all the scammer needs is a "yes" to commit fraud.
The scammers are good.  They are devious.  We all need to be diligent these days.
Call Canton Elder Law Attorney Brian S. Karpe
If you are concerned an elderly loved one may be a potential victim, report it to the proper authorities. If you want to prevent an occurrence, educate your elderly loved one about safe phone and internet practices. It may also be time to consider obtaining a conservatorship or financial power of attorney so that your loved one's access to finances is restricted if they are no longer able to make these decisions independently. This is a last resort out of precaution to protect an elderly loved one. If you have questions about elder scams or how elder law planning can protect your family, contact Canton elder law attorney Brian S. Karpe. He can help you identify strategies to protect elderly loved ones and prepare for the future. Call today to schedule a consultation.
For additional information:
oig.ssa.gov/scam/
https://www.usa.gov/scams-and-frauds