Why It Could Be Beneficial To Spend Down Savings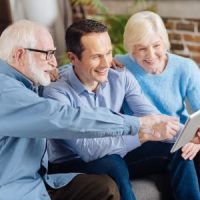 Just in the name alone, savings denotes funds that are put aside and not touched unless necessary or to be spent at a later time. This is true throughout life. People should put some money that they make from each paycheck away for savings. In time, those funds will accumulate and can be a nest egg for life changes, unexpected expenses, other financial needs, and inheritances for others. But, when one has been able to grow substantial savings and they are entering into or are currently living in the older years of their life, it may be a better option to use that money than to keep it sitting untouched.
A common concern that people have when they age is whether they will be able to afford retirement and how much they can give to their heirs when they pass on. These are two reasonable concerns. But, considering that as high as 69% of people will need some long-term living
arrangements at some point in their life, and depending on the type of care needed, the monthly costs can be astronomical. A different mindset may work better. In Connecticut, the average cost for a basic assisted living facility where only daily help is offered could exceed $15,000 per month which is $180,000 per year.
Many people that have large savings may not have enough savings to pay for such services by themselves, yet their net worth precludes them from eligibility for Medicaid assistance that could pay for long-term care. This is why it may be better while you are in good health you use your money to enjoy your life. You may be able to establish an estate plan that is set up with your heirs in mind and that will also not jeopardize your ability to get the Medicaid benefits you may need in the future.
Speak to a Canton Elder Law Attorney Today
If you have questions about how to best make use of your savings and what the most appropriate method is for you when you want to incorporate long-term care planning into your estate plan, the Canton elder law attorney at The Law Office of Brian S. Karpe, LLC can help. Call today to schedule a free consultation at 860-217-1458.
Source:
medicaid.gov/medicaid/long-term-services-supports/index.html