What Does Medicare Pay For With Long-Term Care?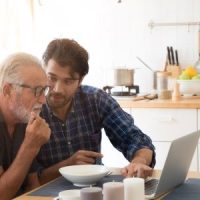 As we age our parts start to break down and our immune systems are not as strong at defending against diseases. It is just a part of life, and no matter how hard you try to keep yourself in great shape, it is much more difficult to stay healthy in older age and anything can happen to one's health quickly and even unexpectedly.
If you are receiving Medicare coverage, you may think that you will be fine if you require long-term care. But it depends on what type of care you need when it comes to what Medicare will cover. Should you have to change your residency and look into a nursing home because you need assistance performing activities of daily living, then what you need is custodial care. This type of care is considered non-medical and is not provided by licensed medical professionals such as nurses or doctors. Medicare does not pay for custodial care, but Medicaid may. It is important to keep in mind there is a vast difference between Medicare and Medicaid. Medicare is a benefit earned because you have worked enough yearly quarters, but Medicaid is a means-tested benefit. A means-tested benefit is a benefit that is provided based on an evaluation of whether or not you have the financial resources available to pay for medical care.
As Medicaid is a "means-tested benefit", strict rules and regulations coincide with what a person must do and how much they can be worth to qualify for Medicaid benefits. It is best to speak with an elder law attorney near you if you would like to benefit from Medicaid and want more
information on what is necessary for that to happen.
Speak to an Elder Law Attorney in Connecticut Today
If you are considering Medicaid as a way to pay for you to stay in a nursing home, then preparing for this far in advance is recommended because of the current five (5) year look-back rule, which is subject to change. Certain actions you take right before you apply could mean you could face costly penalties. For help with your long-term care planning needs, please call the Canton long-term care planning attorney at The Law Office of Brian S. Karpe, LLC to schedule a free consultation at 860-217-1458.